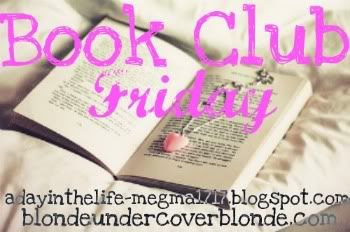 I just finished the first book in James Patterson's Women's Murder Club series. They came highly recommended from one of my coworkers who was actually the one to turn me on to Patterson in the beginning. Now I'm rather obsessed with his writing - he has a way of keeping me on the edge of my seat that I love and I fly through his books faster than any other literature I can get my hands on lately. I won't ramble on and on about him since I've talked about Patterson alot lately (and will continue to as I read the next 9 books in this series) but I just started....
It has been appearing in Book Club Friday posts like crazy lately so I snagged it from the library the other day while returning a book and I'm anxious to see if I enjoy it as much as some of my blog friends did. It seems like it's going to a be a quickly, by the pool kind of read and I'm actually excited to have one of those since I will to BE by the pool some this weekend.
What have you all been reading?
Love,
B