After a rough week that included getting sick on Thursday and passing out early in hopes of a quick recovery, I was a little worried about my busy weekend that was still ahead. I woke up super early Friday morning to prepare for our first in-home blogger meet up. I of course wanted it to be a smashing success since I was the one who pitched the idea of moving the meet ups into our homes AND volunteered to host the first one.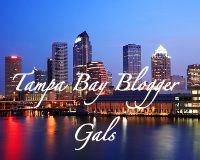 I LOVE this group of girls. I really do. One of my favorite things about blogging is how many incredible people it's brought into my life from all over Tampa, Florida, the US, and heck even around the world (shout out to
Cafe Moka
). I've been able to meet many of them in real life recently and will meet 2 more in NC in a few days, and Leanna when I head to DC in May.
For the meet up I made Cookies & Creme Brownies & Cherry Chip Cookies (Aubs gave me the mix and I was crying into the mixing bowl about her departure while I made them):
I happily spent all week (well bits and pieces of everyday, really) preparing the house for the girls to come over. Isn't it funny how all the sudden you become self conscious about what everyone will think of your house when in all likelihood they don't care if you dusted or not? Or maybe that's just me.

Friday was a crazy day. Lucky for me, I got to have lunch with Toni and Pat @ Wrights. If you live in Tampa and haven't had Wrights you're clearly insane and you should go eat a piece of cake ASAP. I spent all week looking forward to great fellowship and good food with theses ladies. Actually it was more like a month of looking forward to it since we scheduled it weeks in advance.

It was everything I'd dreamt of. Those ladies are incredible and my time with them left me feeling uplifted and positive, while I recovered from a few good belly laughs. I hope we'll be able to make it a VERY regular date. Good food and good friends are the perfect combo, don't you think?

My work had 'fro yo Friday' and we went to my all time favorite place in South Tampa: Yogurtology. Of course I'd just had Wrights so I was far from starving but I managed to make a little room for yogurt anyway (my hips are probably not thanking me now). It was fun to get out of the office and catch up with coworkers about life, family, and let's be honest - The Hunger Games.

So anyway, back to the blogger meetup... I also really wanted my new table to look cute so I put a lantern complete with a lit candle on the table:
(if you're my friend on facebook and your officially sick of pictures of my table already - sorry!)

I was talking aloud about all of the things I want to do to or buy for my home with my Mom a week or so ago. A couple days later I got a text from her that she would happily buy me a table for my balcony as a gift. This is the one I picked up and brought home a few days later (from the 3rd HomeGoods I went too). I'm so pleased with it. I sent my Mom this picture to which she responded: 'Becca it's beautiful!!! Love it!! ESP the candle!' (yes, with that much excitement in her overuse of exclamation points). I have the most amazing parents!
Everyone did a great job of bringing food and it was delicious! I grazed all night (which won't surprise many of you). Nichole made amazing meatballs (which I'm still eating leftovers of). I could have single handedly eaten all of Jlo's dip. I had 2 (smallish) plates of desserts so I managed to try pretty much everything! So thank you ladies for bringing such delicious food. Turns out I wasn't the only one to use pinterest to pick what I cooked!
Lauren & I
Me, Nichole, and Jess
My love, Jess & I (I still adore that dress on you slash might need to borrow it)
Group shot! (there should be more of those to come but this is the closest I got to one on my phone)
Lane & Jess
Here is the list of who all came (someone tell me if I forgot someone!):
Lane

It was such a fun night and I'm glad all you ladies could come over. Looking forward to our next meetup in a month or two!
Love,
B