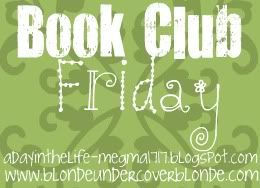 Well I'm headed to New York City tomorrow morning bright and early but my prep for the NYC hasn't kept me from absolutely mauling books lately. Can't.Stop.Reading. Seriously though, I've had my nose in a book every free minute for the last 2 weeks. Since I've been babysitting up a storm to have extra money for my big trip, I've had plenty of time while babies were sleeping to read oh a thousand pages a week or so.

So, I'm linking up for the second week in a row to share my book club read of the week. I know a few of you have probably already read this (people seem pretty obsessed with Giffin) but I just finished Heart of the Matter.

Oddly considering I've read all of her books to date, I've never considered Giffin one of my favorite authors, that may just change after this novel. Written to capture and even break your heart, this book will take you through every emotion from anger, frustration, sadness, hope, pity, and more. Giffin gets down to the nitty gritty of what makes relationships work, and fail. Showing what happens when we let human nature take over and toss aside what we know to be 'right'. A great show of the battle between our short term and long term desires, Giffin masterfully wrote this one to tug at your heart strings.
Love,
B