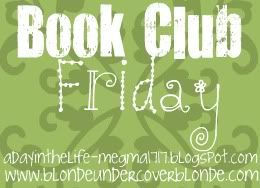 I've taken Heather's challenge to join in on book club Friday! I'm finally back in my groove and flying through books again lately so I thought I would share the latest great read I finished in less than four days of a busy week...

After a coworker, Madison, recommended James Patterson's Private a week ago and I devoured it, I picked up another of his thrilling murder mysteries at the library on Friday night and had it finished on Monday night. While some of Patterson's books are a bit gory or too much for me, he also has some great story lines that hold the reader without all the guts and dirty details - Postcard Killers fell into that category for me.
A team is brought in from several countries to solve the case of the Postcard Killers, a couple traveling around murdering other couples on vacation. The couple has strange patterns and the crime scenes are made to mimic famous pieces of art from the country they murder in. This book will have you on the edge of your seat and keep you guessing and frustrated til the very end.
Love,
B